3 of the best learner approved motorbikes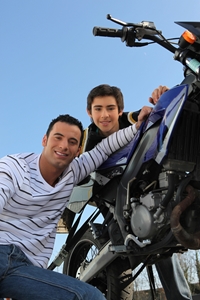 Learning to ride a motorbike can take some time - usually, many more hours than are needed to get comfortable on the back of a two-wheeler.
That's not only because of how different a bike is when compared to a car, but because of how exhilarating it feels to sit right on top of a motor and zip around carparks and roads to get the hang of manoeuvring and changing gears. You'll be spending a lot of time sitting on a small machine and having the wind whip your face.
It makes sense, then, to make sure you're riding one of these three motorbikes below, and motorcycle finance from AAA Finance can get you there:
1) Kawasaki Vulcan S ABS
This cruiser is a real stroke of genius when it comes to design. It looks absolutely superb.
Balanced on a 650cc parallel twin engine that produces 35 kilowatts at a throaty 7,900 rpm, you'll really be able to feel the power hitting the tarmac on the back of a Kawasaki Vulcan S ABS. The addition of ABS disc brakes is a fantastic confidence boost for learners worried about not being able to handle a powerful machine - fear not, Kawasaki has you covered.
2) Kawasaki Ninja 650L ABS
It's a similar story on the back of the iconic Kawasaki Ninja 650L ABS. The safe braking system is going to keep you level in any of the most torrid conditions.
Much more of a racer, and available in two racing colour schemes (Candy Lime Green and Candy Persimmon Red), the same motor in the Vulcan S ABS produces 39 kilowatts of power in the Ninja 650L ABS but weighs 15 kilograms less. You'll be able to rip through the streets much more easily on the back of a Ninja, and it might be much more your style as well.
3) Honda CBR500R
The Honda CBR500R is another racer, and the safety features here are similar in stature to the two bikes above - ABS is now standard.
A liquid-cooled 500cc parallel twin engine allows for not only economical riding, but also zippy movements as the lightest bike on this list by far. The total kerb weight is a mere 194 kilograms, so the Honda CBR500R is going to be perfect for anyone who doesn't think they could handle a heavy motorcycle. Does this tickle your fancy? Apply for pre-approved motorcycle finance now and don't waste another day waiting in traffic jams behind the wheel of your car.
Get in touch with AAA Finance to learn more about how they can make your motorbike experience a great one.