Benefits of an off-road motorcycle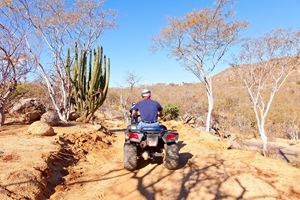 If you have decided that new car finance and simple caravan finance are not what you want to choose on your path to a vehicle, then perhaps a motorcycle offers the speed and mobility you are after. If this is the case, then a secured motorcycle loan could the just the thing you need.
As it is secured against the bike, it allows for lower interest rates and perhaps better long-term affordability in your budget. This could be why it is the most popular type of motorcycle finance offered by our panel of more than 23 lenders.
But once you secure a loan for your two-wheeler, there is another important choice to be made - on or off road?
Off road, but on trend
According to an April 9 media release from the Federal Chamber of Automotive Industries, off-road motorcycle sales have experienced a recent jump. Over the first quarter of this year there were 7,715 of these bikes sold, which is a 2 per cent rise on the previous quarter. These accounted for 31 per cent of all sales in the all terrain vehicle (ATV), motorcycle and scooter market.
Honda, Yamaha, Kawasaki and Suzuki were the four most popular brands, which could give you an indication of the names to look out for if you're new to the market. With this slight resurgence occurring at the moment, heading off the beaten track with a suitable motorcycle and excellent bike finance could be just the thing you need.
The variety
Whether you own a farm and want secured motorcycle financing to get from A to B, or simply want a leisure vehicle for the weekends, there is a wide range of off-road motorbikes that can fit your needs. The Motorcycle Council of New South Wales notes that this also includes ATVs and mini-bikes, which made up 60 per cent of all motorbike sales to June 2014.
Mini bikes can be great for children with the right safety precautions, and you may be considering a loan for a pending birthday. At the other end of the scale, motards and enduro bikes are high-performance machines that can be used on both dirt and sealed roads, bringing you the best of both worlds.
Whatever your decision, there is a lot of variety and excitement that can be had with an off-road bike. One of the fastest ways to get one for yourself is by working with AAA Finance. You can get pre-approved for a loan right now, and our panel could even turn around financing for you within 24 hours.