Sun safety on the water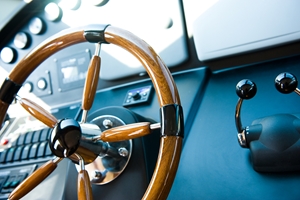 Nothing quite says summer like the thrill of experiencing the outdoors and soaking up the sun. Fortunately in Australia, there is plenty to be excited about in terms of outdoor activities, from family sports at the local park, to long days on the beach and around the barbie.
Another beloved summer pastime is to head out to sea for a day of boating, feeling the gentle rocking of the waves and smelling the fresh sea breeze.
If you've always dreamed about getting a vessel of your own, then perhaps 2016 could be the year you make it happen, with a boat loan from AAA Finance.
However, once you've acquired your fine craft, there is another very important factor to consider before you head out on a summer cruise, and that's sun protection. We're taking a look at what you should know in order to enjoy a safe summer on the water.
What you should know about UVA vs. UVB rays
The majority of the ultraviolet radiation (UVR) that reaches the Earth's surface is UVA, the type of UV that is commonly associated with what is known as the 'tanning effect', according to the World Health Organisation. However, it is also associated with photoageing, with some evidence pointing to UVA contributing to the development of skin cancer.
UVB, with a shorter wavelength, is particularly dangerous, penetrating the superficial layers of our skin. Responsible for the painful redness of sunburn, overexposure to UVB is also a potential cause of melanoma or skin cancer.
Why is it important to protect yourself from the sun while out on your boat?
Like snow, water can reflect UV rays back at you, meaning that just wearing a hat is not sufficient to fully block the effects of the sun.
In addition, your eyes can take a fair beating from the harsh sunlight, as well as the glare off the water. According to Sun Smart, overexposure to UV rays can result in mild irritation as well as discomfort when looking at bright lights.
In more serious cases, long term UV damage can lead to cataracts and potentially skin cancer, making it vital to invest in a good pair of shades if you intend on going boating on a regular basis. Sun Smart recommends a wraparound style that meets the Australian Standard AS/NZS1067:2003. A pair with a category 2, 3 or 4 label, or an eye protection factor (EPF) of 9 or above will provide sufficient protection for your peepers.
How can I protect myself from getting sunburnt at sea?
Your selection of sunscreen can go a long way to protecting yourself from dangerous UV rays. Sun Smart recommends opting for a formula with a sun protection factor (SPF) of at least 30, which filters out 96.7 per cent of UVR. Even better, an SPF 50 sunscreen will filter out 98 per cent. Make sure you choose a broad spectrum formula, which blocks both UVA and UVB.
Boaties in particular should make sure their sunscreen is water-resistant, as well as remembering to reapply once every two hours to maintain optimum sun protection. Last but not least, don't forget to take a broad brim hat to protect your face and neck, as well as a cover up for when UV rays are at their strongest (usually in the middle of the day).
If you're ready to start your boating adventure this summer, talk to the team at AAA Finance to find out more about getting a secured or personal boat loan.
Our expert team will tailor a finance package to suit you at some of the most competitive rates on the market. In addition to boat finance, we also have a range of insurance options to keep you afloat and protect your asset for an enjoyable summer on the water.